Product Review: Function of Beauty (Not Sponsored)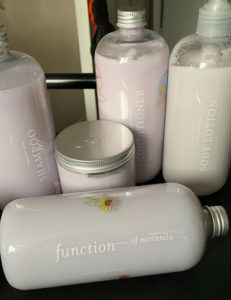 I picked up the "shower bundle" in a boxing day sale. I figured why not. I've been considering trying their products for ages, so many of the people I watch on YouTube have been sponsored by them over the years, they sound good, and the sale was a good price. I didn't get a lot of options with the sale bundle though. No hair quiz to pick my options, just a choice of hair type (straight for me), smell (eucalyptus), and a choice of colour (purpllleeee). And of course the name for the bottles. The bundle came with shampoo, conditioner, hair mask, body wash, body lotion, and a travel kit which I passed on to a friend planning a trip. (When I saw it as part of the bundle I thought it would be perfect for her, and was another push towards getting it.) The package didn't take long to arrive and was very neatly packed so nothing moved around in transport. I attached the pumps to the bottles, decorated them with the stickers, and tossed all but the lotion into the shower.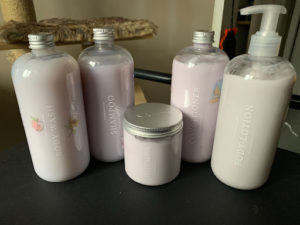 I have to say, I noticed a difference straight away. I don't use any product in my hair outside of the basic shampoo and conditioner. I'm pretty low maintenance. I have to be – with the issues with my thumb, I can't spend a lot of time manipulating things into my hair. And I've also been using a shampoo and conditioner that are "free from", as they say, so I didn't think my hair was being weighed down all that much. But what a difference. I used the full set for my first trip. I washed my hair twice with the shampoo, as recommended, and I definitely noticed it suds up a lot more on the second wash. I waited a full song (yes, I bring my phone along in the shower with me with a playlist) with the conditioner, and again with the mask. When I got out my hair felt so light it was almost as if I'd gotten it cut again. It was such a difference. It was light, it was soft, and the smell wasn't lingering around overpoweringly, which was great because when I get migrainy, sometimes I can't stand the smell of my shampoo even. The parts where I used the mask were very evident as the brush slid through them like a hot knife through butter, not a tangle in sight, and my hair is normally very "do not brush me when partially dry unless you want to cry". The body wash was nice, and the one time I used a bar of soap instead since starting using it I noticed a sharp difference in how dry my skin was, so the body wash is doing its job.
It's only been a couple months, and I'm not washing my hair all that often (pandemic quarantine life and all), but I've been enjoying the products, and it's fun having a little set to use rather than my mismatch of products. I keep the lotion by my bed for anytime use (much to Odell's wrinkly nosed complaints, but I haven't found a single lotion that cat doesn't protest about until I've rubbed it in).