Product Review: Who Gives a Crap? (Not Sponsored)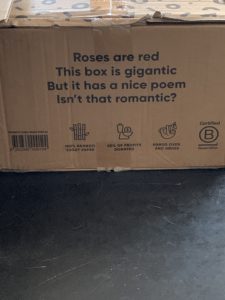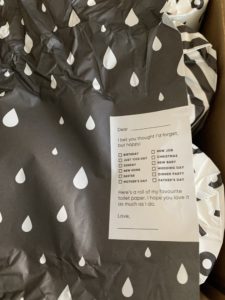 I kept seeing ads for Who Gives a Crap, a company who makes sustainable household "paper" products out of bamboo: toilet paper, paper towels, facial tissues. I started with the toilet paper. The order came fast, and orders over $30 are shipped carbon neutral, so yay. I was a bit surprised to find the box was sealed with plastic tape after all that. Even Amazon uses paper tape these days. The rolls of toilet paper are all wrapped individually in paper, which is printed with artistic designs, and I believe they've advertised reusing it as wrapping paper for gifts. My grandmother complimented the wrapping when I posted a picture of the box of rolls, so I think they're hitting their target in that regard (and I don't think she'd mind if I did use it for gift wrap – Christmas sorted. Hurrah. Now I just have to store it somewhere away from the cats till then.) The paper itself is rough on one side, and smooth on the other, but the rough side is not uncomfortable at all. In fact, it's probably better in terms of cleaning, if you know what I mean. I'm only on my third roll since I got the box, but so far so good. The cats also enjoyed the cardboard box it all came in.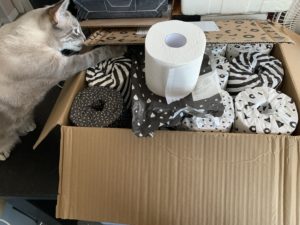 Since the toilet paper was a success (and has now been relocated into storage bins in the bathroom closet, which necessitated organizing said closet), when I started running low on Kleenex brand tissues (triple ply, my nose deserves it), I decided to give them a try for their facial tissues. Since a set of the smallest quantity of those is less than required for free, carbon neutral shipping, I figured I'd toss in an order of the paper towels as well. I didn't need them just yet, but I would eventually. My order arrived a few days later. And I found that it was two separate boxes, one for each product, sealed with plastic tape again, but then the two boxes were taped together with paper tape to keep them together during shipping. So they do have paper tape. 
Anyway, the tissues. They're small, square boxes of 65 tissues, and each has a cute saying on the top. The first box I opened, the removable top said I deserve a donut, and it's damned right. The tissue was nice and comfortable, but it's definitely smaller than the tissues I'm used to. We'll have to see how long a box lasts.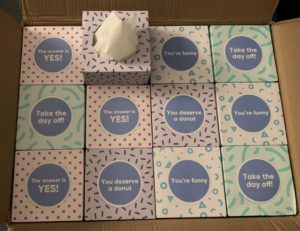 I haven't broken into the paper towels yet, so further thoughts to come, on them and the tissues.