First Thoughts: Necrotech by K. C. Alexander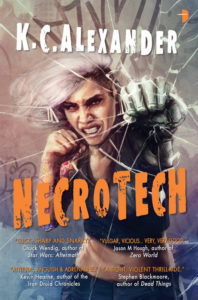 Necrotech is the first release from K.C. Alexander (aka Kace Alexander), a creative I am very happy to support on Patreon. Which is where I got an ARC of this awesome book. It is also the first book of a series, which is also awesome. The SINless series looks to be an exciting adventure.
Spoiler free reviews are tough to write, but I want you to experience the world for yourself.
Our window into the world of the future is Riko, a badass lady with a cute girlfriend. Riko is a splatter specialist, and damn good at the job. I'd hate to be the forensics team trying to clean up in the wake of her missions.
This felt a bit Shadowrunny, but being human we often compare back to our first experience in a genre and associate general things with that example. This is not a bad thing! It just made it easier to slip into the world.
This book is full of interesting characters. Even the ones who don't live long get a personality and identity of their own.
I am looking forward to the next one in this series. It'll be interesting to see how Riko's relationship with the other characters will evolve. And I have thoughts on what's happening that I just can't wait to see if I'm remotely right.
Check out this page for info on the book and series. It's up for preorder now, out next month! (You can also read the first chapter on the site.) https://www.kcalexander.com/books/necrotech