City Of The Lost By Stephen Blackmoore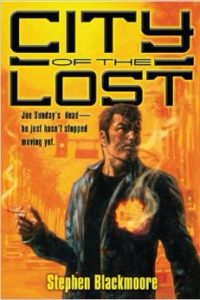 I hate reading reviews with spoilers, so I strive to avoid them in my writing. There are plenty of other reviews out there that will outline the entire book if that's what you're looking for.
Things go to hell fast for Joe Sunday and there's a landslide following him down. Everyone has an angle, everyone wants something, and he knows it. The question is, who will screw him the least?
Note: if you gross out/get offended by cursing easily, you should probably skip this one. While I think the back cover outlines pretty well what style to expect, some reviewers obviously weren't paying attention.
Joe is a thug, and he shows it in thought, word and deed. Written in first person narrative, you really get to know him in the short time you have together. At 224 pages, this is a pretty quick read, and the action keeps it going like a steamroller on a downhill slope.
I quite liked this book. There are a number of people Joe has to deal with, and they all feel like characters and not just obstacles. It's difficult to discuss the book without spoiling anything as events progress very quickly. There is no filler or wasted padding in this book. I will say Darius was a favourite character of mine and I hope he shows up again somewhere. The mythology of the world is very interesting. Magic is real, and I like the way it works. I want to know more about how playing cards work as security as that was fascinating to me. Joe is a bit too busy to pry into details of that though. His goal is very clear to him. Unfortunately not many people want him to accomplish it.
I am very thankful to have won a copy of this book in a blog contest, as the price ($13.99 CDN) for the ebook would have definitely steered me off. I would have been sad to have missed out on this. I'll be picking up the follow up (same world, different protagonist) Dead Things once I find one in print (cheaper than ebook sadly, but not commonly stocked in my area).
Also posted on Goodreads