Dead Things by Stephen Blackmoore
Spoiler Free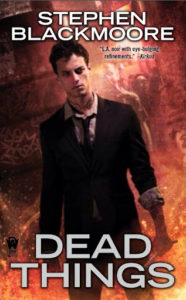 This is my second Blackmoore book, the first being City of the Lost. (Review of that here: https://www.mirintala.com/2013/05/16/city-of-the-lost-by-stephen-blackmoore//) From my understanding this is the same world, but we've got a new character to follow in the form of Necromancer Eric Carter.
The dead are never quiet when Eric Carter is around. Sometimes this is a helpful thing. Other times, well, who really wants ghosts hovering around while they're sleeping? Good thing Eric knows some tricks to keep them back.
The book starts out with an acknowledgements bit that really speaks as to the writer life. Then we jump in to the car with Eric to arrive at the first location we'll visit, and see what an ass kicking character Eric is.
We're introduced to a number of interesting characters in this book, and see the return of a character I liked in City of the Lost.
Writing a spoiler free review of such an action packed book is hard. I definitely enjoyed it. You can read the first chapter online at https://www.stephenblackmoore.com/eric-carter-dead-things
I'll leave off with a quote I quite liked that doesn't spoil anything, but first, links! You can find Stephen at http://stephenblackmoore.com/ and on Twitter as @sblackmoore
"I feel a little sorry for him. He doesn't know what's happened. Sure as hell didn't ask for it. Stuck in his own little hell with no idea how he got in there or how to get out. Just like the rest of us."
PS: the sequel to this, Broken Souls, is already out and on my shopping list.